The Rongland BNV9A Night Vision binoculars were designed to be a cost effective night vision binocular without giving up quality or night vision performance.
The binoculars come with many fantastic features that make them ideal night binoculars for: police, army, special forces, navy, border guards, rescue brigades, security, detective agencies, law enforcement, nocturnal escapades, recreation, outdoor sports, scout's trips, animals viewing, hunting, etc.
The main features include a high-resolution Image Intensifier Tube and a 5x magnification.
A powerful long range IR illuminator allows to use the binoculars even when there are no other light sources like the stars or the moon available. They also have a bright-source protection to the intensifier tubes that protects them when exposed to bright light.
The product is a compact, lightweight, tripod mounted and weatherproof.
The heavy-coated 90 mm glass lenses allow for optimum clarity and distance. The digital proximity sensor, when activated, turns the unit on when is in viewing position and off when it is not, saving battery power and tube life.
Features
Outfitted with exclusive "Smart" features
Lens system 5x magnification
Automatic on/off proximity sensor special function
High resolution Gen 2+ or 3 Image Intensifier Tube
Multi-coated all-glass optics
Long-Range Infrared Illuminator
Water, dust, and fog resistant
Package includes
device
hard case
cleaning cloth
user manual
Optional accessories
| Parameter | Value |
| --- | --- |
| Batteries | 2 x CR123A |
| Diopter adjustment | from -5 to +5 |
| Low battery indicator | YES |
| Operating temp range | from -40 to +55 |
| Shock resistance | 5 |
| Storage temperature range | From -50 to +75 |
| Supply voltage | 2 x 3V |
| Active Performance Period without IR illumination | 40 |
| Active Performance Period with IR illumination | 20 |
| Auto-off under 40 Lux | YES |
| auto off when mount be flip up | N/A |
| Auto-on under 10 Lux | YES |
| Auto-on when mount be flip-down | N/A |
| Built-in Infrared | YES |
| CCD | NO |
| Changeable Additional Lenses | NO |
| Detection (cloud cover) | 340 |
| Detection (quarter moon) | 500 |
| Dimensions (mm x mm x mm) | 225 x 150 x 60 |
| Electronic Compass | NO |
| Eye relief (mm) | 15 mm |
| Focus range (m) | 20 m to infinity |
| Fom | 1250 |
| Fov | 20 |
| Generation of image intensifier tube | 2+ |
| Head helmet mounted | NO |
| Identification (m) | 160 |
| Interpupillary adjustment | 57 - 72 |
| IR effective distance | 50 |
| IR indicator | YES |
| Laser rangefinder | NO |
| Lens system mm:F | 86 mm : F 1.2 |
| Model | BNV9A-2 |
| Optical magnification x | 5 |
| Positioning system GPS | NO |
| Proximity sensor | YES |
| Recognition (cloud cover) | 260 |
| Recognition (quarter moon) | 420 |
| Recording | NO |
| Relative humidity at 25 | 98 |
| Resolution | 48 - 58 |
| Signal to noise | > 20 |
| Spectral response wavelength | 800 - 850 |
| Tripod mounted | YES |
| Tube life | 10000 |
| Type of image intensifier tube | S-25, Multi-Alcali 18 mm |
| USB | NO |
| Waterproof | IP64 |
| Weight (g) | 1600 |
View full details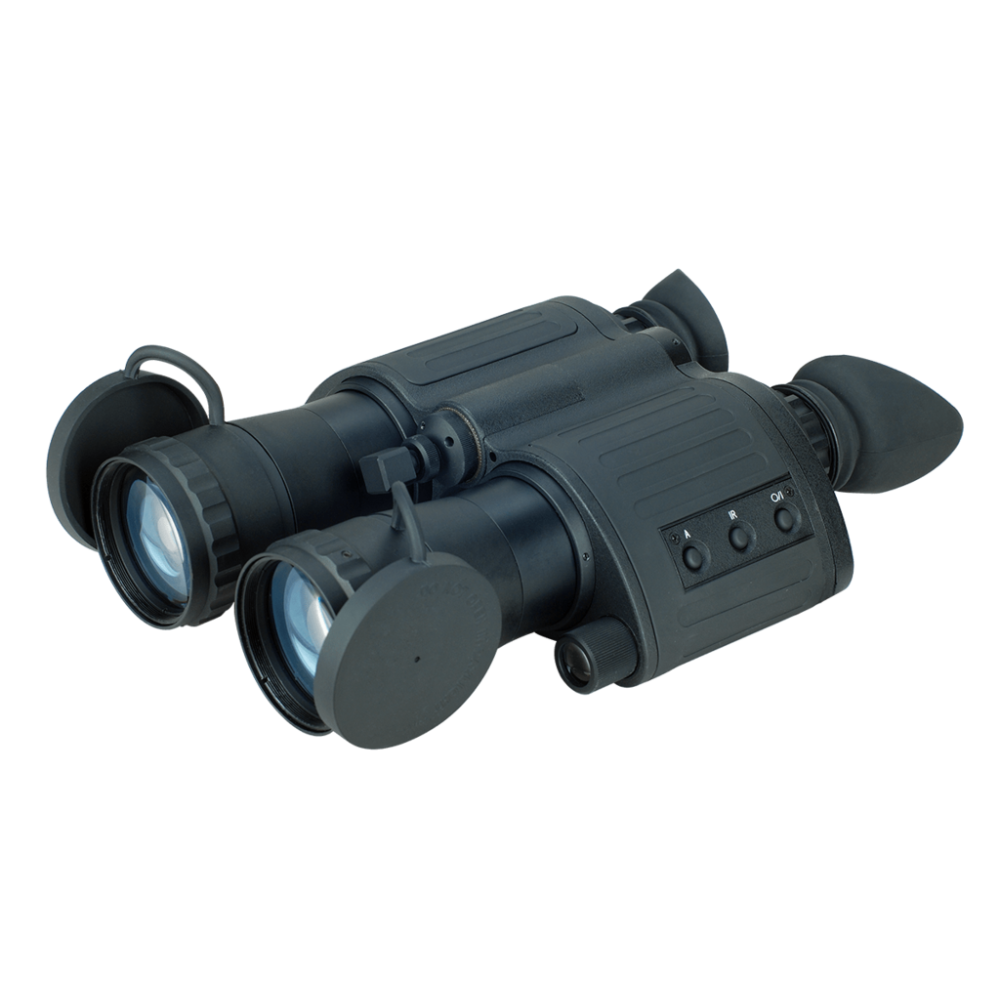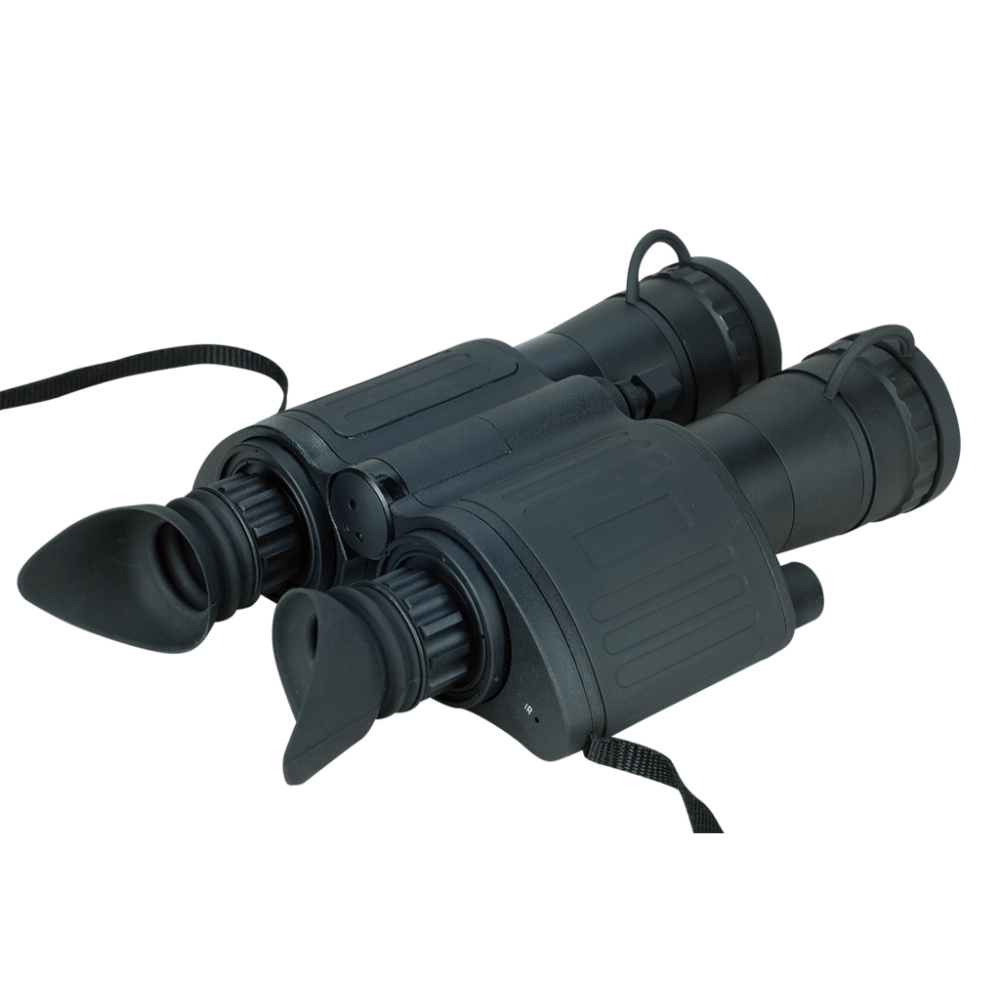 RONGLAND reserves the right to improve the specification and/or design without any notice. Some of parameters like RANGE may vary depending on the user, light, contrast, environmental conditions and set up.
FAQ
What is the difference between thermal imaging and night vision?

Night vision devices require minimal illumination (which is why they use near-infrared). They are sometimes susceptible to exposure to sudden light sources. In addition, unlike thermal imaging - night vision devices "see" through glass. Thermal imaging devices, on the other hand, make it possible to see at any time of the day or night, even in total darkness.They work on the basis of the difference in temperature, which allows them to detect also hidden objects, animals and people - even if they are hidden behind bushes, vegetation or in hard-to-reach places. Over-the-horizon thermal imaging devices allow operation in harsh weather conditions like fog, rain, snow, at sea, etc. As a rule, thermal imaging technology is more expensive than night vision.
What specifically makes Rongland products different from others on the market?

The Rongland brand originated from products for the military sector, firefighters and rescue teams. To this day, it is still our company's main customer. This makes even the engineering design itself anticipate higher-than-civilian reliability performance - because human lives sometimes depend on it. The tenders we've been handling for years require a service life of no less than generally 10 years, burdened with numerous endurance tests and certifications. In our history, we have had less than 1% of the world's complaints and warranty repairs (combined). So it's safe to assume that unless you're looking for a cheap toy for one season - it's simply worth investing in good equipment. And that's what every Rongland device is.
What if I don't know how to choose the right device for me, I don't fully understand these specialized designations, or I'm not sure you have something more suitable for my needs?

In such a situation, send us as much specific information as possible, that is, either the requirements in the form of technical data, or a description of applications. Ideally, also add information about the planned budget - then we will send you our recommendation.
How does Rongland's repair and warranty service work?

Our devices, as a rule, do not break down - so in a situation where the equipment is already really not working, then contact us at service@rongland.co.uk with the serial number of the device and the details of the person/company who purchased the device - then we will make a remote preliminary diagnosis without taking the equipment away from you for that time.If the fault would actually prove necessary for physical diagnosis or repair by the service, then you will send the device to us by courier to our Polish service. In the case of compiled repairs, we will use our UK service. You will receive all information directly from us.